Key Benefits:
ESD protection
20″ long (custom lengths available on special order)
Small or large quantities available
Quick turn around quotes on new custom designs
Conductive Tubes available on special order
Available for: DIP, PLCC, LCC, SOIC, SOJ, SOP, SSOP, TSSOP, QNF, MFL, LPCC
Stoppers and end plugs also available.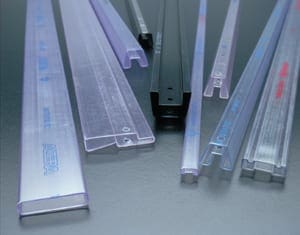 Quote Parameters for Tubes
There are a ton of different configurations and there is not a one tube fits all scenario

Tubes are used for transporting components from vendor to user

Tubes are also used for loading into machines that assemble boards

Tubes are usually made of clear anti-static PVC with writing printed or imbedded on the tube stating they are anti-static

I have two vendors I work with – one will have ready-made tubes or can get them and the other vendor, located in the US, can manufacture them from scratch

For quoting tubes, I would need one of the following please:

Spec drawing of the tube

Spec drawing of the component going into the tube – the customer cannot just make a quick hand scratched drawing and expect a quote

A sample tube from the customer if there is no drawing

If none of the above is available, I would need a physical component that goes into the tube so my vendor can take measurements

Please note that my vendors will not sell direct……..they will only work with the distributor that gave them the project
Tubes That Need to be Manufactured
First and foremost, there will be a tooling cost

Tooling is not a cost we have any control over

Because tubes are extruded. tooling must be designed & manufactured based on the shape of the extrusion

Tooling remains property of the vendor

Tooling is a one-time up front cost – I do not add anything to the cost of the tooling and that charge is not negotiable

There will always be a minimum number of tubes required for order
End Caps/Stoppers for Tubes
Tubes will have some form of stopper at each end

They are not included into the price of the tube – they are always quoted as a separate orderable item

Types:

Rubber caps that go over the tube

Rubber stoppers that are pushed into the end of the tube

Hard plastic caps that are pushed into the end of the tube

Plastic pins that are pushed/pulled into holes that have been drilled into the tube

There are colors for stoppers – I had a customer that required black on one end and red on the other

The easiest way for me to quote these is for the user to provide a picture or drawing of what they have
Please call us at 800.858.1379 or 512.267.0100 for questions or request for quotes. Please send drawings of your part to info@texastechnologies.com so we can make sure the tube will be the perfect fit for your parts!