ESD Awareness Signs allow you to establish the areas requiring static protective measures.
Features:
4" x 10" ESD awareness sign Indicates to personnel that they are entering an ESD Protected Area.
Apply to doors, floors, walls, tote boxes, workbenches or to any area containing static sensitive parts.
Easy to install.
Constructed from laminated stock
Designed for long term use.
Made in the United States of America.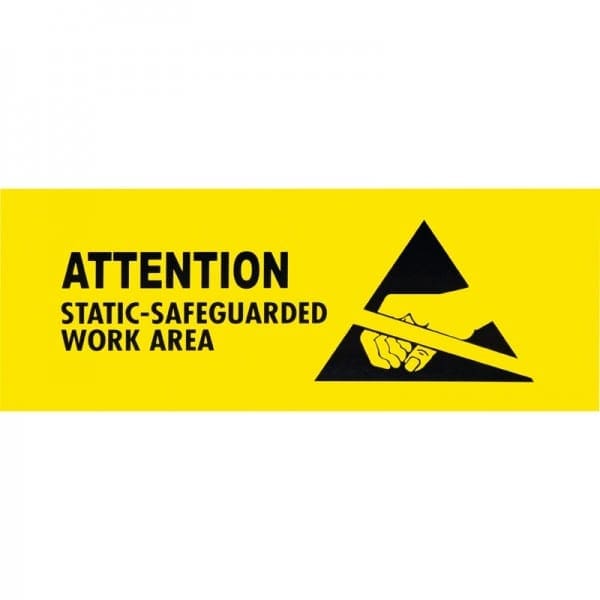 Part Number
Name
Uom
Price
Buy
hf:categories
ESDSIGN4X10
ESD Awareness Sign, RS-471, 4" x 10"
Each, MOQ 10

$

3.45

—

or

/ month

esd-signs labels packaging-foil-store-categories static-control-store-categories labels-signs labels-tapes google-merchant labels-1 labels-tapes-1 cleanroom-bags-tubing store-categories root-catalog
ESDSIGN8.5X11
ESD Awareness Sign, RS-471, 8.5" x 11"
Each, MOQ 10

$

7.20

—

or

/ month

esd-signs labels labels-1 packaging-foil-store-categories static-control-store-categories labels-signs labels-tapes google-merchant labels-tapes-1 cleanroom-bags-tubing store-categories root-catalog
LB9191 / LB9201 ESD Label
ESD label printed with "Caution Computer Material Enclosed Do Not Bend or Expose To X-Rays. Excessive Heat, Cold or Humidity Radioactive Materials. Static Electricity of Magnets. Exposure To Any Of The Above May Destroy Contents"
Size: 1-1/2′ x 3′, 3′ x 5 "
Permanent adhesive
500 per roll
Part Number
Name
Uom
Price
Buy
hf:categories
LB9191
ESD Label 1-1/2 x 3
Each

$

13.45

—

or

/ month

lb9191-lb9201-esd-label labels labels-1 packaging-foil-store-categories static-control-store-categories labels-signs labels-tapes labels-tapes-1 google-merchant cleanroom-bags-tubing store-categories root-catalog
LB9201
ESD Label 3 x 5
Each

$

17.75

—

or

/ month

lb9191-lb9201-esd-label labels labels-1 packaging-foil-store-categories static-control-store-categories labels-signs labels-tapes labels-tapes-1 google-merchant cleanroom-bags-tubing store-categories root-catalog
LB9170 / LB9180 ESD Label
ESD label printed with "Attention Contents Static Sensitive Handling Precautions Required"
Size: 1 x 1-1/2, 1-3/4 x 2-1/2
Permanent adhesive
500 per roll
LB9141 / LB9142 ESD Label
ESD label printed with "Attention: Static Sensitive Devices. Handle Only at Static Safe Work Stations"
Size: 1-3/4′ x 2-1/2′, 4′ x 4′
Permanent adhesive
LB9090 / LB9100 ESD Label
ESD label printed with "Caution Sensitive Electronic Devices Do Not Ship or Store Near Strong Electrostatic, Electromagnetic, Magnetic or Radioactive Fields"
Size: 4′ x 4′, 2′ x 2′
Permanent adh
LB9110 / LB9120 ESD Label
ESD label printed with "Attention Contents Static Sensitive Handling Precautions Required. Contents:
Size: 1-3/4′ x 2-1/2′, 1′ x 1-1/2′
Permanent adhesive
500 per roll
LB9130 / LB9140 ESD Label
ESD label printed with "Attention Observe Precautions for Handling  Electrostatic Sensitive Devices"
Size: 2′ x 2′, 4′ x 4′
Permanent adhesive
500 per roll
LB9082 / LB9083 ESD Label
ESD label printed with "Attention Observe Precautions for Handling  Electrostatic Sensitive Devices"
Size: 2′ x 2′, 4′ x 4′
Permanent adhesive
500 per roll